Best Candle Making Kits and What to Look For
A good kit should have everything ready for you to start making your first batch of candles even if you have never made candles before. Think of a candle-making kit as the best beginner candlemaker's equipment.
What is the best candle making kit?
The most popular and easiest to start with is a container candle making kit.
The best candle-making kits have everything premeasured and ready to go. It should come with clear instructions. The kit is to get you started so that you can successfully make candles with a positive experience.
You should be able to make 4 to 6 candles that burn properly and produce a nice scent. The kit should cost around $50 and the ingredients should be labeled in a way that you know what you used. If you purchase a kit from a candle supply store you will have the support and will be able to ask questions.
This post contains some affiliate links for your convenience, read our full earnings disclaimer.
Here is a list of what your candle making kit should have
Detailed Instructions
A Metal Pouring Pitcher
A Thermometer
Candle Containers (Vessels)
Appropriate Wicks
Wick Stickers
Assorted Fragrance
Wax
Wick Centering Tools
If you are looking for the best candle making kit on a budget there are tons to choose from on Amazon. They offer crafty solutions for the weekend hobbyist, but all candle making kits should come with enough of the basics to make a nice candle.
Here is the link to the kit I used in the video: Candle Making Kit on Amazon  and  Here is an alternate #2 on Amazon if that is not available: Candle making kit
If you are looking to go beyond crafting and learn candle making as an art, it is difficult to learn candle making from a basic candle craft kit. You may want to upgrade a little. I would suggest shopping for a candle making kit within a more professional product line.
They offer a wide range of products that are fit for the beginner that won't break the bank. Here are a few that I can stand behind.
If you are just starting out making candles it cant be overwhelming trying to figure out what you need. After your first experience, you'll get better acquainted with the process and can build on your kit.
It seems only fitting to support a fellow candle maker on Etsy and have the ability to connect with an actual candle maker. A kit put together from a candle maker should be well thought out and these offer a personalized touch.
Etsy has a large selection of candle making kits for beginners, weekend craft projects, or if you are looking to make a gift for someone special.
Soy Candle Making Kit – 2lb – Aluminum Pour Pot – Cargill C-3 Wax by ThePlace4Candles
I think this is a great starter kit for someone who has never made candles and may not be a craft warrior.
Soy Container Candle Making Kit
Kit Includes:
2 pounds of Cargill C-3 container wax flakes (makes approx. 7 – 14 candles depending on size)
2 ounces of candle fragrance oil
6 Diamond Dye Chips (we choose to go with fragrances)
10 #765 (2.5″)
1 Small Aluminum Melting Pot
1 Glass Thermometer
1 Instruction Sheet
3 Assorted Containers (Containers will vary in each kit)
17 Warning Labels (12 small, 5 large)
*****INTERNATIONAL ORDERS***** Fragrance will not be included with international order and instead will be substituted with an extra pack of 25 wicks same as listed above. International recommendations for fragrances may need to look locally on Amazon, unfortunately.
---
This kit contains 2 pounds of soy wax to make 4 jelly jar candles. They allow you to pick 2 fragrances which is a nice thing. This way you can pick what you like. The pouring pitcher and thermometer you can use many times over. Because they tell you exactly what you used, you can reorder candle making supplies without buying another kit.
---
This kit contains about 5 pounds of soy wax and comes with 12 jelly jars. They include 4 ounces each of apple pie and love spell fragrances. This basic kit doe not come with a pouring pitcher or thermometer. You will need to upgrade. This kit is about $50. The upgrade is about $105 but also comes with a presto pot for melting the wax. The upgraded kit would help you launch a candle business more efficiently and is worth the investment.
---
This kit contains everything you need to make 4 scents of soy candles in candle tins. (12 total) Candle Science is a go-to website for candle making product information.
The kit ingredients are listed so that you can refill items that you need without purchasing another kit. It helps to know what you were using should you need customer support or have questions. They are more than happy to help.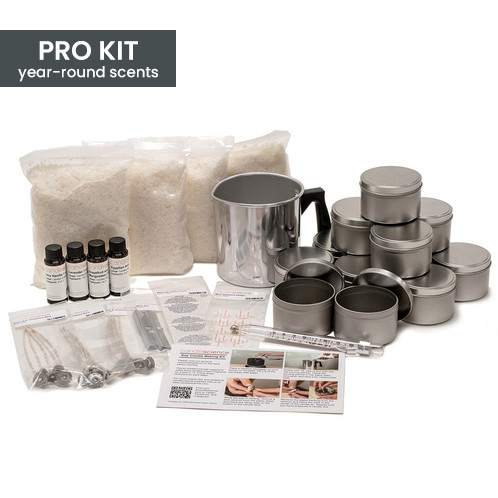 ---
This kit contains enough material to make 10 candles of Brambleberry's Dark Crystal Fragrance oil. It is an example of mini-kits that you can buy to make a specific candle line without purchasing the equipment that typically comes in a kit. You will need to have those essentials, but if you have already purchased a basic kit this is a great purchase.
---
Most kits will not come with a heat source or saucepan to boil water. You can use your stovetop. If you purchased a soy wax candle making kit, the wax will clean up with hot soapy water. Paraffin will not and is a little more stubborn so use protective covering.
Never pour wax down your drain.
Fragrance oil can be corrosive to some surfaces and some candle dyes stain forever – fair warning! I use an apron or wear old clothes.
To get wax out of your clothes heat with a hot hairdryer and blot with a paper towel. Pure soy will come out with hot soapy water.
Additionally, you will have to use things from around the house like a potholder and spoons.
You will also need some paper towels and scissors. After you have made your first batch you will need some additional equipment and more supplies to continue to make candles.
Since everything was premeasured, you will also need to add a scale to your list. Now that you have had your first experience it will be easier to shop for ingredients. It is time to do some homework and research as well. Learn as much about candle making as you can. I have plenty here on my resource page to learn.
Candle Making Kit On a Budget or a Standard Candle Making Kit
Pros
This type of kit is relatively inexpensive starting at about $30 and can be purchased at local craft stores or online through merchants like Amazon. They are easy to use and offer a few hours of crafting fun.
Cons
These kits will not have customer support should you have questions and if you would like to reorder candle making supplies, matching what you purchased will be difficult. You would need to purchase an entire kit to replenish.
Professional Candle Making Kit
Pros
This type of kit is inexpensive starting at around $50 and can be purchased at local candle supply stores or online. These can also be upgraded to include more material to help you launch a candle line or start a candle business.
Support is available with these often through their websites, email, or phone. If you are lucky to live close by, in-person visits are welcome too!
These kits can be restocked with candle making supplies at any level even if you are just crafty on the weekend.
Cons
Some kits are premeasured for you. After restocking you will need to learn candle making or replace the kit. The bigger the kit, the more you will need to learn.
---
Another style of candle is the pillar and here is the best pillar candle making kit.
This kit comes with enough material to make 2 medium size pillar candles. The benefit of pillar molds is they can be used many times. The initial investment in the equipment will pay off soon. These candles are a little more for the advanced candle maker, but with practice and patience, it is easy to learn for a beginner. It comes with instructions and their website is very helpful.
Another pillar candle making kit is a votive candle. These are made with wick pins and molds. Votive candles can be burned just like a pillar candle but they are meant to fit inside a holder commonly made of glass.
Some will drip more than a regular pillar candle as they are often paired with a wick that would heat the wax enough to pool in the container it was placed in. They are somewhat of a "refill" candle for a container. Votive candles are shorter and often used for vigils.
We can't leave out the original candlestick or dinner candle. Pillar candles were originally dipped before molds were available and that process created a tapered effect. Many handcrafted shops specialize in hand dipping and these candle making kits are harder to find. Often they are hand made. I did find one on eBay.
Unfortunately, the supply changes and you have to keep looking. You can find many candle molds for a reasonable price there and if you are looking for candle-making kits or supplies that are different that is the place to shop. Click on the image to use my affiliate link.
Just a word of caution- straying from the candle supply stores also means leaving the support system that comes with the direction I just pointed you in! Once you have made enough candles and have become the master I'm sure you will, it won't matter. Your creation will become more sophisticated and you will know what wax you are using by look and feel.
---
Specialty Candle Making Kits, Luxury Candle Making Kits, or Sample Candle Making Kits
This type of candle making kit is unique and focused on the niche it serves. Most candle making kits are soy wax based or paraffin wax-based or a blend of both. Specialty candle-making kits can be purchased for beeswax for example or coconut wax.
These kits allow you to try out different blends of waxes without purchasing the small utensils otherwise needed in a candle-making kit. If you are a candle maker it is unlikely you would need a thermometer but you may not want to invest in a case of coconut wax and a pack of wicks without a trial run first.
Specialty candle making kits are often designed for candle makers as a way to try new products developed for the market.
Sample candle making kits or sample packs also allow candle makers to try new products. Sometimes a new vessel may need to be tested and the wick may need testing. A sample pack is a solution.
Another candle making kit would be different wick styles like Wooden Wicks. Their complete line is built on an entire non-conventional wick that most have not tried. A sample candle making kit for a wooden wick allows a candle maker to try them without having to invest a ton of money in wicks that may not fit their current vessels.
Pros
These types of candle making kits offer samples of products that are outside of the non-traditional candle making forum. It offers something new and different.
These are usually only offered by experience candle makers or suppliers so support for the product is usually available.
Learning to make an unusual blend like coconut or apricot candle wax with a wooden wax in a sleek glass vessel could bring a state of luxury to your candle line and set your candle business apart. Not many candle makers offer this type of candle and this could be offered at an elite price as well.
This type of candle wax could be classed with the bayberry wax blend which is considered a luxury candle.
Cons
Challenges may come up that would be difficult unless you had some experience making candles. These may be a little pricier than normal candle kits.
These are specialty kits and often can only be used for that project.